Lisa Goodwin-Allen announced Female Chef of the Year at 2022 Ayala & SquareMeal Awards
We are pleased to share that the winner of this year's AYALA SquareMeal Female Chef Competition has been awarded to Chef Lisa Goodwin-Allen.
This major industry award has been annually recognising the enormous contribution female chefs have made to the UK restaurant industry since 2018. It aims to shine a spotlight on the creativity, innovation, training and style that each of the short-listed chefs represent.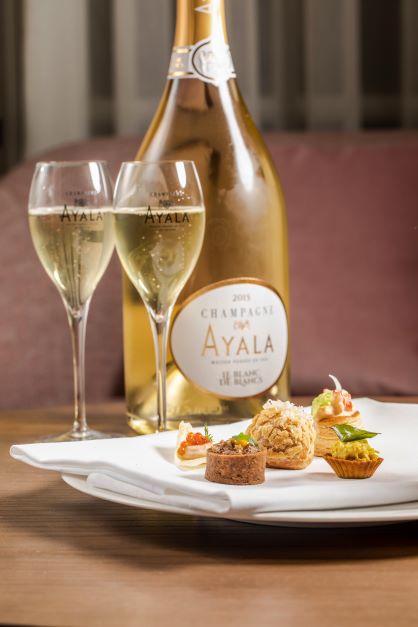 Lisa Goodwin-Allen was awarded her prize by last year's winner, Sally Abé, the managing Director of Champagne AYALA, Hadrien Mouflard, and SquareMeal's Head of Content, Caroline Hendry. Hosted at The Pem Restaurant, the awards event was an enjoyable evening to celebrate the female talent within the chef community, topped off with Champagne AYALA Blanc de Blancs 2015 served en magnum and delicious canapés created by The Pem.
Lisa has been contributing to the industry for nearly 20 years. Her work includes being Head Chef, then Chef Patron of Northcot Restaurant in Lancashire, and overseeing the food at The Game Bird and The American Bar at the Stafford Hotel London. She has a playful and innovative cooking style while respecting classic dishes and flavours. Under her leadership, Northcote has become an incubator for talented young chefs; the restaurant runs an apprenticeship scheme, where young chefs are assessed in-house and are able to learn on the job.
Hadrien Mouflard, Managing Director of Champagne AYALA comments on what the competition represents for him and the AYALA team: "At Champagne AYALA, we are committed to excellence in everything we do, and as such, we are proud to be once again supporting the SquareMeal AYALA Female Chef of the Year Award, shining a light on the great work that these female chefs are undertaking both in their restaurant kitchens and within the wider community. It is with great pleasure that we present this award to Lisa Goodwin-Allen, who has made an outstanding contribution to the restaurant industry, not just through her work as chef patron at Northcote but also through her commitment to supporting future talent in the industry."
Congratulations Lisa!