Fladgate Harvest Press Trip to Porto and the Douro Valley
From Monday 19th to Wednesday 21st September 2022 we were delighted to welcome Julie Sheppard (Decanter), Libby Brodie (City A.M.) and Eloise Feilden (Drinks Business) on the annual Fladgate Harvest Press Trip to Porto and the Douro Valley. It has been three years since the last Fladgate Partnership Harvest Press Trip was able to take place so I think it was safe to say that everyone was suitably excited to take part. After a rocky start with TAP Airlines we were on our way!
After a lovely overnight stay at The Yeatman in Porto, we headed to the Douro Valley for our first stop at Croft's Quinta da Roêda in Pinhão. Here we were met by David Guimaraens who talked us through the 2022 harvest which had come early this year due to the very dry conditions. In David's own words it has been the "most challenging and driest year" they've ever had, with the last rainfall in March and a series of heatwaves from June onwards peaking at 46.5˚C in Pinhão. However, David assured us that it's nothing to worry about as the Douro vines and viticulture for Port production in the region have adapted over centuries around these hot, arid conditions and the grapes are looking excellent.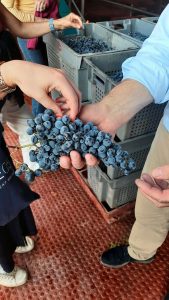 A short walk around the vineyards and a quick taxi ride later and we arrived at Quinta da Nogueira where we met The Fladgate Partnership CEO, Adrian Bridge, also witnessing first-hand the grapes arriving into the winery. A tasting of the freshly pressed juice, as well as of the juice post-fermentation/pre-fortification was delicious and showed great potential. After a tour of the winery we were off to Quinta de Vargellas which surely must have some of the most breath-taking views of the Douro Valley. A boat trip down the river (Chip Dry and Tonic in hand of course!) was followed by dinner and some good news… after initially thinking all the foot-treading had finished we were informed there was still some left to do and the group were put to work at 11.30pm, rising to the challenge magnificently! As the saying goes, there's no such thing as a free lunch…
The final day saw us return to Porto for a visit of the Taylor's Lodge and a tasting of the Taylor's, Fonseca and Croft ranges. We then headed over to WOW (The World of Wine) for lunch at Golden Catch, one of the experience's twelve restaurants, bars and cafés. Unfortunately we only had time to enjoy one of WOW's experiences before our flight home but that didn't mean it was any less unforgettable. The Wine Experience focusses on demystifying wine from root, vine and grape to glass and was fascinating from start to finish and is one of the seven unique experiences to be enjoyed at WOW.