Dallaglio RugbyWorks Partner of the Year 2022
The Dallaglio RugbyWorks Awards is an annual event in the RugbyWorks calendar and a personal favourite event of Lawrence Dallaglio's! It recognises the fantastic achievements of young people and thanks those who help RugbyWorks continue to support disadvantaged young people across England and Wales.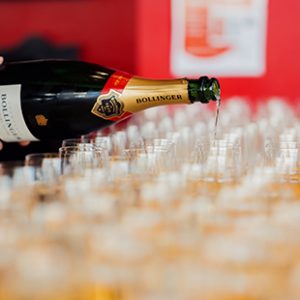 The Partner of the Year Award recognises an organisation who goes above and beyond for Dallaglio RugbyWorks, providing invaluable support to RugbyWorks to help them continue running the programme. We are delighted to announce that we were named 2022 Partner of the year, and the nomination below reveals exactly why. Watch the full awards ceremony here, hosted by Lawrence and Zena.
"Mentzendorff are a long-term supporter of Dallaglio RugbyWorks. One of our flagship events, Six Nations Lunch, could not run as smoothly or as cost-effectively without them. Mentzendorff sponsor Six Nations Lunch year on year, and even though the 2021 event happened just 5 months before the next one in 2022, they were still very happy to sponsor the event again, providing all the wine and Bollinger required for the guests completely free of charge (champagne drinks reception and wine on tables!). This is a huge cost saving for the organisation and means that much more of the profit made from Six Nations Lunch can go to direct delivery with our young people. As well as this, they are always offering auction and raffle prizes for our events whenever we need them and ask for nothing in return. They are always willing to give to us. In addition, the team at Mentzendorff are always extremely efficient in helping organise these prizes, whether it be liaising with rugby legends to secure a date in all of their diaries, (which is a tough task in itself!) to ensuring all deliveries are made in plenty of time before the event. They are a great team to work with and really do make our lives in events much easier to manage. Andrew Hawes and Alan Montague Dennis from Mentzendorff were also due to take part in the Dallaglio Cycle Slam 2022 and despite unfortunately not being able to make it in the end, they both surpassed their fundraising targets and collectively raised £8500 for Dallaglio RugbyWorks! They are always on hand to support Dallaglio RugbyWorks in many capacities and their support has been invaluable this year, we cannot thank them enough."  Taylor Mullaney-Downer, Events Coordinator at Dallaglio RugbyWorks