Bodegas Hidalgo releases the 2022 La Gitana En Rama, IWC Trophy Winner
Always a keenly anticipated release of the year, the Spring 2022 release of the Bodegas Hidalgo La Gitana En Rama is now available in the U.K.As well as winning a Gold Medal in the 2022 IWC competition, Bodegas Hidalgo En Rama has also won the 'Manzanilla En Rama' trophy. With a score of 96 points, judges commented: "Classic ripe apple and pear umami and saline almond saltiness. Finish is fine and elegant".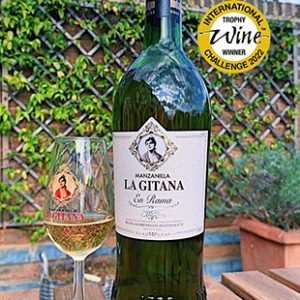 The NFT offered the first 40 vintages of Klein Constantia's world-famous sweet wine, including the 1986 through to 2012 in 500ml bottles as well as three magnums of each vintage from 2013-2027, estimated at R550,000-R750,000 (£28- £40k). Many of the wines within the Vin de Constance NFT are extremely rare – with only a handful of 1986 Vin de Constance left in the library, virtually no complete verticals are likely to exist outside of the estate.
La Gitana En Rama is sherry at its very best – lightly filtered, un-fined, pure free run wine directly from the barrel. This wonderful sherry demonstrates the glorious concentration of all the aromas and flavours that Manzanilla has to offer.
Made exclusively from free-run juice, La Gitana En Rama has spent eight years in solera, using the best old American oak casks from the San Luis Winery under a layer or "flor" formed by the yeasts. Punchy and powerfully flavoured, the 'En Rama' dry sherry is aged and drawn directly from separate barrels and is released biannually in rhythm with the natural flor cycle. The result is intensely flavourful, complex and extremely food-friendly.
Only made from 100% Palomino grapes grown on the white albariza soils from the highest quality vineyards, En Rama is released in limited quantities as Hidalgo only select 35 of the best casks from the Bodegas. The 'En Rama' is best enjoyed sooner rather than later to preserve all of the natural freshness, delicacy and intensity.
In a nutshell, an NFT is a digital asset representing the ownership of either a real life or digital object that is generally bought and sold online, frequently with cryptocurrency. Having taken the world by storm recently, Non-Fungible Tokens are quickly becoming recognised as a highly efficient way to package collections of wines for trading and investment. Once auctioned, the NFT can be traded by the owner on any platform.